"Reflections - Vietnam Veteran's Remembered -Songs from the heart by Phil Ferrazano," a newly released CD by Vietnam Veteran, Phil Ferrazano, is an emotional collection of musical reflections about the war and "The Wall."

Order copies of the CD on line for $10.00 each, plus $2.00 shipping and handling within the US, and $5.00 shipping and handling outside the US.

To order, complete the form at the bottom of this page, or download the order form in Adobe Acrobat (.pdf) format (to download the form, right click on the link above and select "Save Target As"), complete it, and mail it, with your check, to the address below.

CD orders must be prepaid by mailing a check for exact amount to:

Philip Ferrazano, Jr.
1472 Canterbury Drive
Clearwater, FL 33756

For those living in the locally in the Tampa Bay area, the CD can be purchased at:

Bunker One Music
1170 Jasper Street
Largo (across from the Missouri Mart) Phone: 727.559.0073

A portion of the proceeds from the sales of this CD will be donated to Veteran's organizations.

About the Artist

Phil Ferrazano was born on Long Island, New York on January 10, 1950. He moved to Clearwater, Florida in 1961. He served in Vietnam from 1970 to 1971, and is a recipient of the Purple Heart. Phil currently lives in Largo, Florida, with his wife of 30 years, Kathy, and their daughter, Michelle, and is active with veteransí organizations and enjoys writing.

You can contact Mr. Ferrazano via e-mail at philzano@aol.com.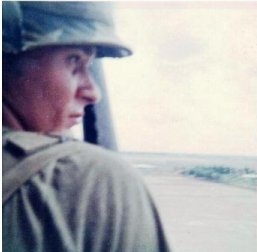 ---
Track 1
Touching Your Name
Track 2
Lovely Angels on a Wall
Track 3
Joe Plays His Guitar
Track 4
Mekong River, I'm Going Home
Track 5
Son's & Daughter's Song
---

About the CD:
While in Vietnam, I served in the Army with the 9th Infantry, and was wounded in action during the Cambodian Invasion of 1970. This completion of this CD turns my childhood dream of being a singer into reality by allowing me to write and sing about what has been close to my heart...the memories of those I lost in battle.
Touching Your Name is about a veteran remembering an old buddy, while the world seems to be going crazy around him. But, no matter how things change, one thing remains...his dedication to those lost in war.
Lovely Angels On a Wall describes a day at the Wall after seeing the names of eight women Army nurses engraved there.
Joe Plays His Guitar was written by my friend, Devon Anderson, and I just thought it belonged on this CD. Many thanks to Devon for letting me use it.
Mekong River, I'm Going Home reflects on the time I spent on the Delta, working off boats that patrolled the Mekong River. All too often it was the elements you fought at night, the water, mosquitoes, bugs, and leeches. The river could be a beautiful sight but war had turned it ugly. With only one day left in country, a soldier says goodbye to the river. On that last day, he asks to make it safely through the night and pays tribute to the river for what it is, a thing of beauty, blemished by years of war.
Sonís & Daughterís Song was written for the Sons & Daughters In-Touch Program, a program that helps children whose fathers died in Vietnam. Through this program, the children are provided with an opportunity to meet people who knew their dads and learn things about their dads that they may have otherwise never known. This song was actually inspired by a visit to the moving wall after I saw items left by a loving daughter who wanted her dad to be part of every important event in her life.
This CD is dedicated to those who served in Vietnam, and to all those who were in any way touched by the war. God bless the warriors who maintain our freedom and preserve the memories of those who died for that freedom.
Phil Ferrazano
Touching Your Name, Lovely Angels on a Wall, Sonís & Daughterís Song, and Mekong River, Iím Going Home, Copyright 1999, Philip Ferrazano, Jr., All Rights Reserved.

Joe Plays His Guitar

, Copyright 1999, Devon Anderson, All Rights Reserved.